Kim Wyman: Great Start as Secretary of State
Kim Wyman, the Republican former auditor elected in 2012 as Washington Secretary of State, has done an outstanding job during her 16 months of service to date. She has made good decisions, by and large, during her tenure, and has let it be known that accurate vote counts are more important than speedy election results, although making gains in both. Wyman is a fair and impartial election administrator, and doesn't let partisan politics get in the way of her decisions. For instance, finding potentially, if not outright, fraudulent petitions in both liberal-oriented and conservative-oriented initiatives, thus far, during her first year of office. As the head state election official, she is paving the way for more precise uniformity of Washington election rules, laws and administration.
[essay continued below photograph]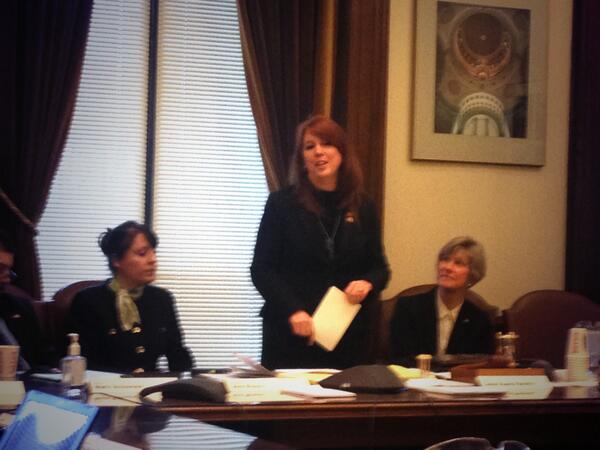 Kim Wyman (standing), WA Secretary of State
Thank God that Wyman won over Kathleen Drew (D), who probably would have ended up a puppet of State Senator Sharon Nelson (D) & King County Elections Director, Sherril Huff, had she won.
Sharon
Nelson
is an "anti-democrat" who had previously tried to raise the bar by double for the poor to qualify petitions, through trying to enact a requirement of a signature per each 50 cents of her proposed initiative filing fee, as the alternative for the poor, instead of the present per each dollar regarding petitions in general.
Kim Wyman is studious, very smart and one of the best Secretary of States in the country -- probably, the best.
[revised on 5/1/14]